New Year Special - Gift from PayUnicard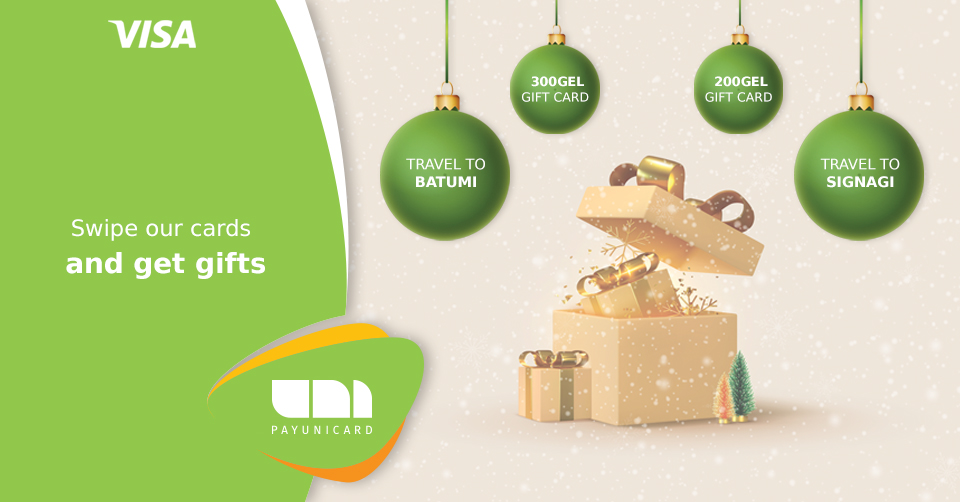 New Year Gift for Loyal Customers - New Year Special from PayUnicard for Unicard Visa/Mastercard cardholders.
Swiping our cards in December is even more beneficial and fun - a 5-day trip for 2 to Batumi at the hotel "Le Port"; a weekend getaway for 2 to a hotel "Kabadoni", Signagi; 300GEL gift card for Beko hardware store; 200GEL gift card for ICR Group stores; - any Unicard Visa/Mastercard holder can receive these gifts. Get involved – swipe Unicard Visa/Mastercard cards more than others from December 10th to 31st, so you are one of the 10 most active customers and receive a New Year Gift from PayUnicard.
The winners will be announced and awarded in early January 2022.
Detailed Conditions:
10GEL transactions by Unicard Visa/Mastercard card for purchasing an item or service both online and offline, are qualified for a promotion.
A purchase made at the same merchant within 20-minutes is considered to be one unipoint collection operation.
A maximum of 3 collection operations performed at the same merchant within 24 hours will participate in the promotion. Amount exceeding 10GEL per transaction will be considered as one collection operation.
If the customer meets the requirements of both Unicard and Payunicard promotions, they can only win one promotion at a time.
The winner will be announced according to the number of payment transactions made with the specific payment card.
The date of payment will be considered the date of the actual payment made with the card, only confirmed transactions will participate in the promotion.
Unicard and Payunicard employees will not participate in a race.
Good luck!