Aparthotel Le Port Joined Unicard Network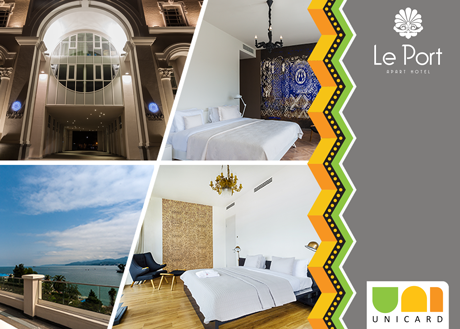 Aparthotel Le Port joined Unicard Network. Le Port offers to its guests 45 apartments of different categories. Each of them, including studios and penthouses meets the most demanding guest's tastes at most. There are all conditions for tourists, holiday-makers or even business people to feel at home, to rest and to work successfully. Le Port offers high standards, comfortable and cozy atmosphere, convenient location, flexible booking and payment system.
Modern design of cozy, bright and comfortable apartments is in full harmony with the classical exterior of the building. Decorative art and industrial modernism are combined with exquisite taste. Apartments are furnished and decorated with works of the famous European designers of our time and of the twentieth century. All the rooms of "Le Port" are equipped with the highest level of modern household appliances. Le Port with a location overlooking the Black Sea, is distinguished for its unique location: Aparthotel which is located in old Batumi on the opposite side of port and restaurant "Sanapiro" is in a convenient distance form the objects of daily life and activities. Aparthotel residents can in just 5 minutes go to the famous boulevard to drink coffee, have dinner, or simply to take a walk on the beach;
Le Port address: 30 Gogebashvili Street, Batumi, Georgia. Unicard holders collect 1 point per each spent 10 GEL.