Unicard and partners announced startof lottery raffle "3 chances to win"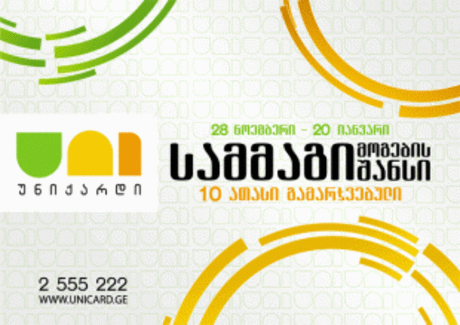 All Unicard holders have a chance to become owners of Porsche Cayenn, 3 FORD Mondeos (business class), ready to live flat in Axis Palace on Sairme Street and other 10 001 prizes where mains is Unitour to Barcelona.
First Chance – Immediate chance to win. 10 001 prizes are held by Unicard partners: Socar, GPC, City Pharma, Jean Gallery, Voulez vous, Array Tomorro, Metromart, OKEY, Smart, Wissol. List of Prizes is very fascinating and diversified: Gift cards, home appliances, Unitour to Barcelona. In partner's network Unicard holders on any kind of purchase will be given scratch-and-win lottery tickets.
Second Chance – Chance to win automobile.  If participant won't win, it is possible to participate in lottery raffle TV live transmitted on Rustavi2 channel. Chances are relevant to win Porsche Cayenn or 3 FORD Mondeos. To participate in Live lottery Unicard holders has to put their ticket into the special box located in store itself.
Third – Chance to win flat. This ticket is given to every user who collect 10 point at Unicard's any partner. Participants are given relevant chance to win ready to live flat in Axis Palace on Sairme Street. Lottery results will be known on June 20th, 2014.
On January 30th, lottery raffle TV live is to be transmitted on Rustavi2 channel from 19:00 till 21:00 o'clock. Most active participants will be rewarded. Don't miss a chance.