Bfine – is a simple and convenient application for paying a car fine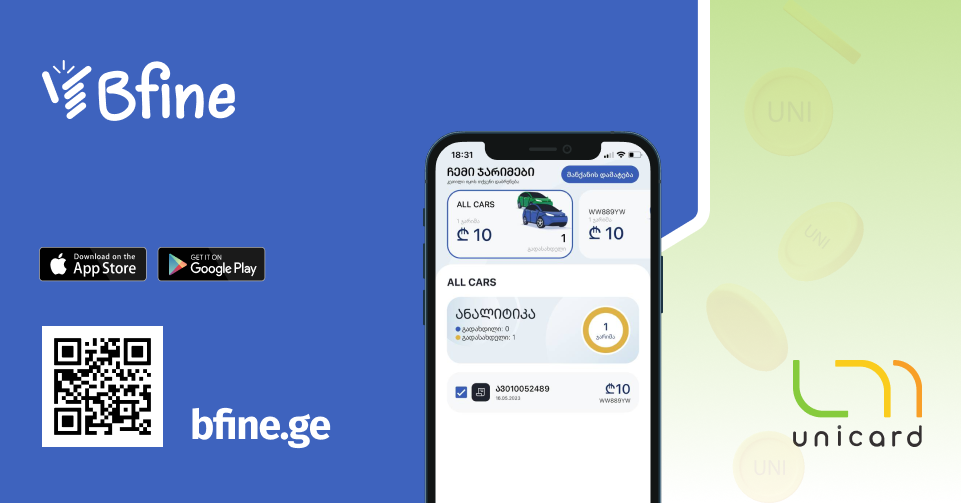 Traffic fines are not uncommon in a city full of traffic jams. Drivers often forget to pay a fine on time, which
is associated with additional costs.
To simplify this process, an innovative and user-friendly application Bfine was created, which offers a convenient service for monitoring and paying police fines.
The process is very simple - download the application, register the vehicle data only once and instantly
receive information about any fines.
Pay the fine directly from the Bfine app and get 25 Unicard points as a gift on the first payment.
For more convenience, Bfine will notify you about new fines not only by push notification, but also by e-mail.
BFine allows you to see with one simple click where, when and for which violation you were fined, the application shows a photo/video capture, the amount and date of each fine, as well as the deadline for paying the fine.
In the application, you can enter any number of car data and add several bank cards. The application will
save your payment history, and if you wish, you can completely delete all personal data at any time.
Bfine will become a must-have app for any driver looking for an easy way to monitor and pay fines.
Download now, pay and get 25 Unipoints as a gift.
Android t.ly/FLqf_
iOS t.ly/r69t