Permanent discount in Altaokay from Unicard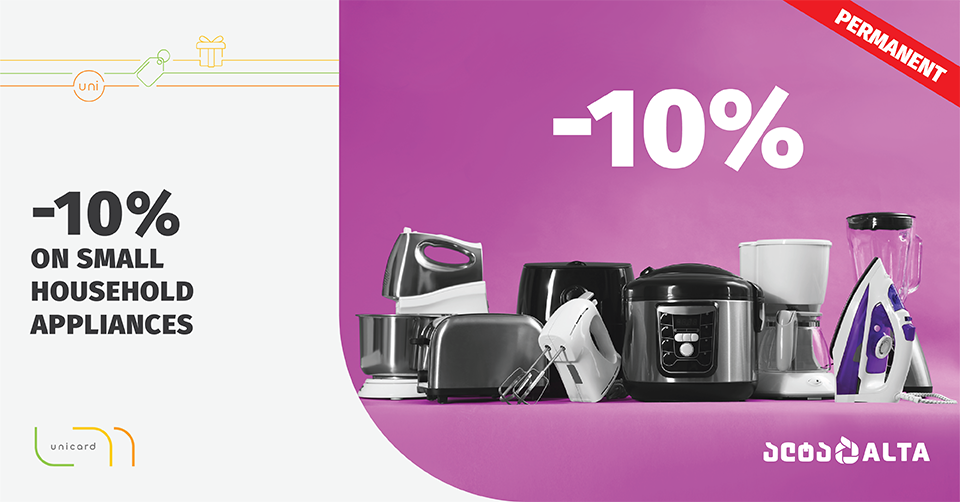 Permanent discount function added to Unicard card.
Unicard holders can get permanent discounts together with accumulation of points.
In Alta, Unicard holders will get 10% permanent discount on up to 50 categories of small household appliances. Categories: Blender, iron, mixer, waffle maker, microwave, multi baker, grill, ice cream maker, baking bread machine, food processor, toaster, sandwich maker, French fries machine, electric kettle, coffee grinder, juicer, coffee maker, chopper, electric meat grinder, boiler, Vacuum Cleaner, heater, Electric Toothbrush, Hair Dryer, Hair Remover, fan, Hair Straightener, hair curler, electric scales, electric shaver, iron, ironing board, air cleaner, and others.
A card registration is required to get a discount (if not registered).
The card can be registered both on the website www.unicard.ge and via the information center 2 555 222.
If you still have no Unicard, you can get it in:
• Spar, Ioli and Alta's Network of stores;
• Unicard Services Centers.
Points, discounts, gifts - this is an upgrading Unicard conception.