The new magic game from the magic pyramid and Unicard is on!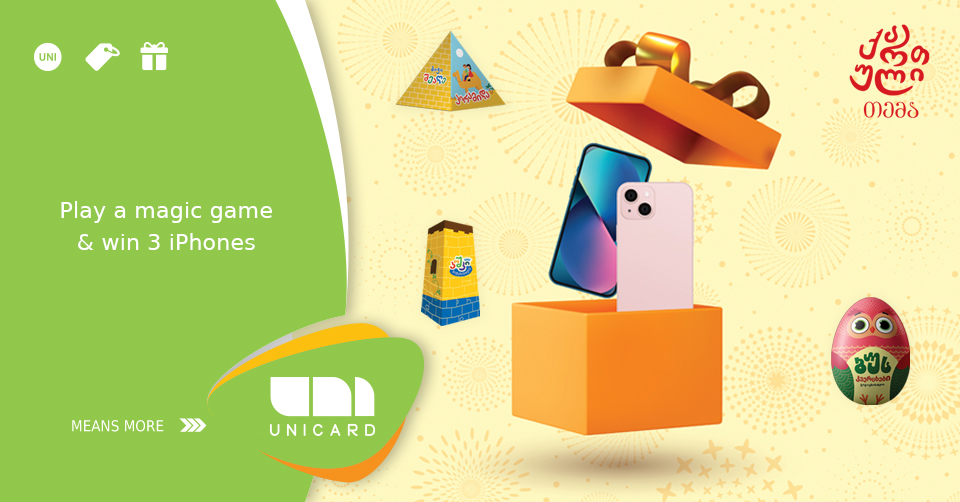 The magic game is back with updated rules and of course, gifts.
Find out what you have to do to win the dream gifts - 1 iPhone 13 Pro and 2 iPhones 12.
This time the rules are:
Collect the letters on the sticker of the packaging of "Jadosnuri Piramida", "Piramida Goliati", "Koshki", "Bus Kvertskhebi"
Put together the phrase "საქართველო მიყვარხარ" (Georgia i love you) using the same color letters as in the logo.
Save the sticker on the packaging, as you'll find the key code and the letter, you're looking for under the scratch cover
Score 15 Unipoints
Hurry up, you have to make it until August 1st *
Become one of the first 3 winners, submit a set of stickers and win one of the 3 iPhones
Which prize you win depends only on how sharp you are
The iPhone13 Pro will be drawn first, then - 2 iPhones 12
As soon as your stickers are intact, please contact us: 032 2 555222
*Please note, completing all the tasks does not automatically mean you've won. The first 3 people to submit the stickers will be awarded winners!
Ready, Set, Go!