New Year Special - Gift from Unicard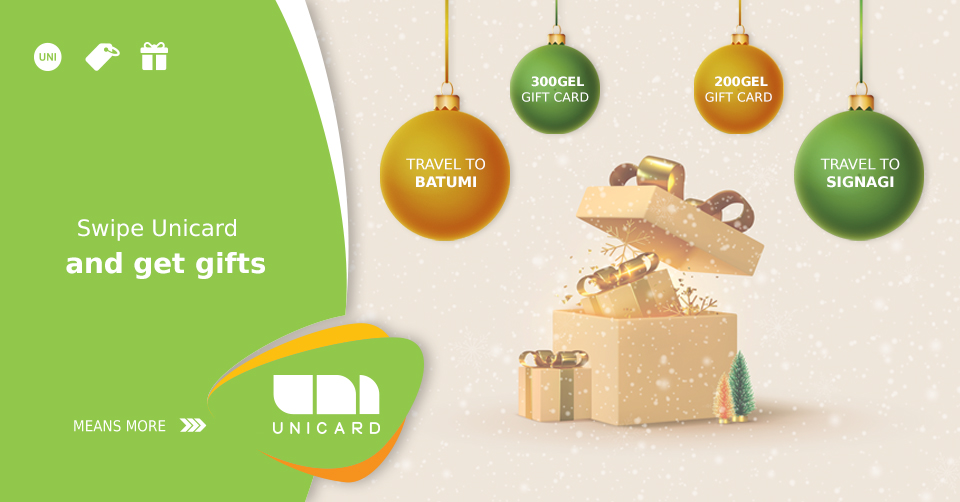 New Year Gift for loyal customers - Unicard is launching a New Year Special for Unicard cardholders.
Collecting unipoints is even more fun and beneficial in December – a 5-day trip for 2 to Batumi at the hotel "Le Port"; a weekend getaway for 2 to a hotel "Kabadoni", Signagi; 300GEL gift card for Beko hardware store; 200GEL gift card for ICR Group stores - any Unicard holder can receive these gifts. Get involved – swipeUnicard more than others from December 10th to 31st, so you are one of the 10 most active customers and receive a New Year Gift from Unicard.
The winners will be awarded in early January 2022.
Conditions:
Main and additional Unicard cardholders, who have entered their names, last names, and cell numbers while registration, can participate in a promotion.
Swipe Unicard with at least 10GEL purchase to participate.
A purchase made at the same merchant within 20-minutes is considered to be one unipoint collection operation.
A maximum of 3 collection operations performed at the same merchant within 24 hours will participate in the promotion. Amount exceeding 10GEL per transaction will be considered as one collection operation.
The frequency of transactions will be calculated per card (but an account). The only exception is a virtual card, swiping of which will be added to the cardholder's standard Unicard transactions and summed up. If the winner of the additional card can not be identified, the main cardholder will receive the gift.
If the customer meets the requirements of both Unicard and Payunicard promotions, they can only win one promotion at a time.
Unicard and Payunicard employees will not participate in a race.
Good luck!