Unicard Visa international payment card is available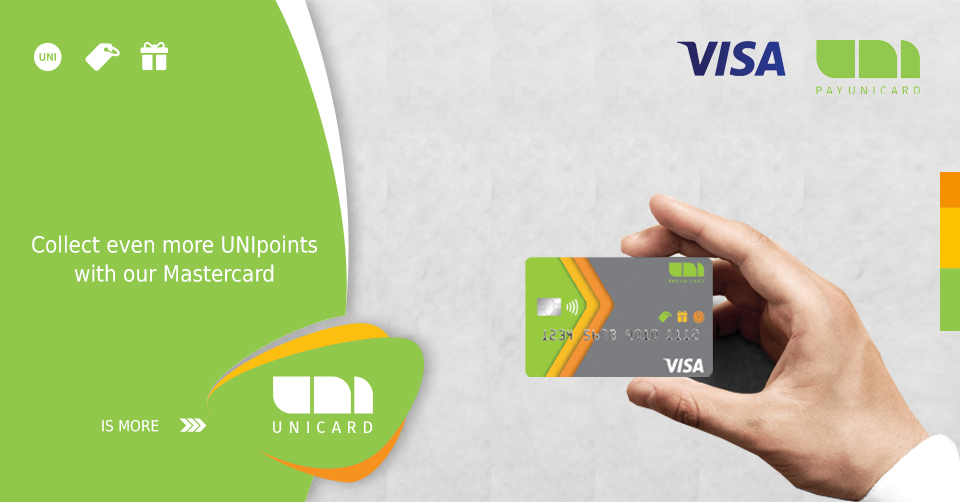 PayUnicard is the first financial technology company in Georgia, offering Unicard VISA linked to e-wallet along with Unicard bonus card. When paying with an international prepaid VISA card, UNIPoints are collected wherever you see a Visa logo all over the world.
Unicard Visa owners are able to:
Easily integrate and manage payment and bonus cards, funds and earned rewards in one digital space;

Perform bonified financial transactions with e-money;

Collect more UNIPoints at Unicard partner merchants and elsewhere Visa card is accepted;
Shop at any facility and online;

Exchange e-money at special rate;

Pay utility bills at preferential tariffs;

Cash out from the network of Visa partner banks worldwide;

Earn rewards for financial transactions and receive ongoing special offers from Unicard and its partners.
Current Offers*
Order a card online and get your first Unicard VISA card free at the address of your choice in Tbilisi;

Top up the card account with 10 GEL and get a onetime gift - 50 UNIPoints;

Get at least 1 UNIPoint every time you spend 10 GEL with your Unicard VISAcard at any facility. You can collect more UNIPoints at Unicard partners' using the barcode on the card;

Pay utility bills commission free from www.payunicard.ge;


Pay utility bills with UNIPoints from the Unicard website www.unicard.ge, 10 UNIPoints = 1 GEL.