Join the Unicard fun game "Find the Treasure" in Mtatsminda Park and find one of more than 100 prizes!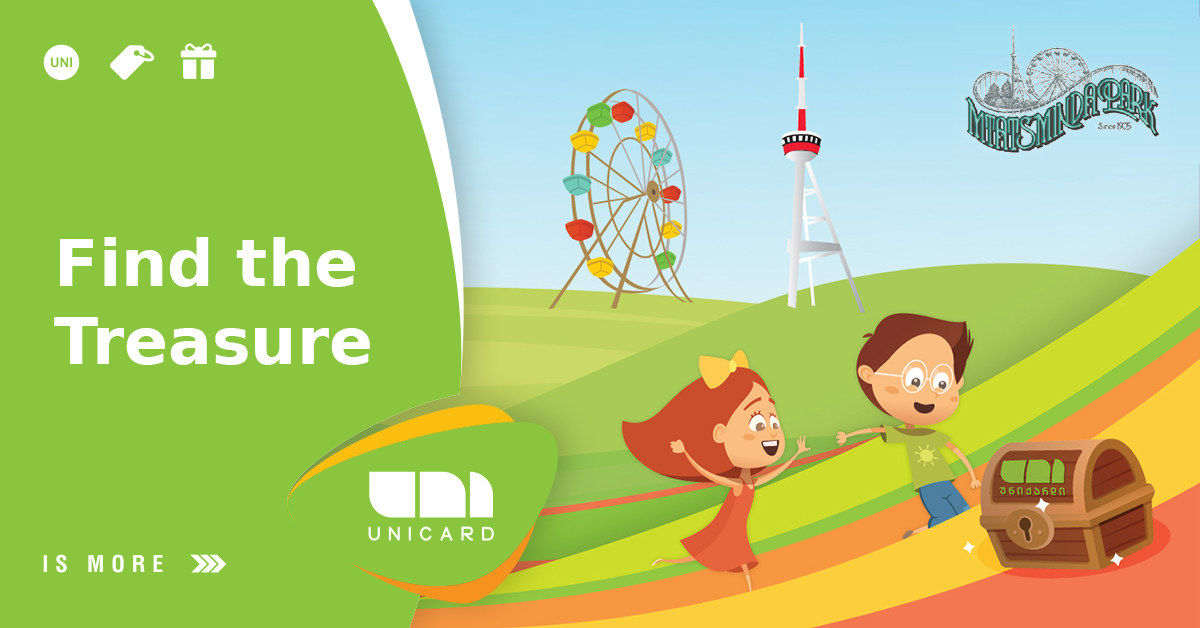 On June 15, from 10:00 am the Unicard game "Find the Treasure" will be held in Mtatsminda Park. The game has a traditional face and is held for the fifth time this year.
Participation in the treasure hunt is fun and gambling. On the day of the game park hides more than 100 gifts determined by the Unicard and the partners. The game is intended for persons under the age of 23.Persons above 23 years old can play the game only if accompanied by a child.
In the central part of the park, by the Unicard's corner near the fountain participants will be provided with a set of players (a guide with the location of the treasure, bandana and brooch). After that searching for hidden gifts will be started. The found gifts will be delivered to the consumers who were firsts in the competition. After each found "treasure", Mtatsminda Park radio will inform the players about quantity of left gifts.
In addition to gifts, Unicard and its partners will take care of the players' mood. The guests of Mtatsminda Park on the central square will have fun fairs, surprises, various entertainment events and gifts.
So, we are waiting for you on June 15 in Mtatsminda Park, find treasure and enjoy the day!
The gifts are determined by the Unicard and its Partners:
Unicard -Hoverboard, Bicycle, Kids Scooter, Roller Shoes;
Alta Okay - Tablet
Go Tour - 3 day tour in Baku for 2 persons;
Hotel "House of Blacksmith" in Surami - 3 day tour for 2 persons;
50 GEL voucher 8 pcs. from Voulez-Vous;
Children's Center "Selftime"- 300 GEL voucher;
One-day visit for 2 persons from Gino Paradise, 8 pcs;
Wunderkind board games, 6 pcs;
Happy Lounge- birthday celebration 2 packages, fairytale hero ordering service 2 packages;
Museum of Illusion- family tickets 10 pcs;
Kids Box- children box 8 pcs;
Georgian Theme-Giant's pyramid 7 pieces' set - 12 pcs;
Mtatsminda Park 50 GEL card, 2 pcs;
JYSK- baby seat;
Four Seasons Tour- Neck headrest pillow 5 pcs;
Lotus - fitness and solarium tickets;
Aspria -100 GEL Gift Card;
Kids Salon- haircut 7 pcs;
Nodar Dumbadze Theater- 10 tickets for performances;
Chicco-Toy;
100 GEL voucher 2 pcs, 50 GEL voucher 2 pcs from Danish House;
Toy Store Happy Day-Toys;