Permanent discounts from renewed Unicard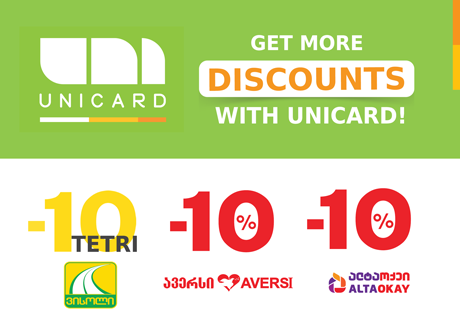 Permanent discount function added to Unicard card.
Since November 15, Unicard holders can get permanent discounts together with accumulation of points.
1. In Wissol Network, Unicard holders will get 10-tetri discount for each liter of fuel (gasoline and diesel) From November 15 in Tbilisi, Batumi and Kutaisi, and from December 1 throughout Georgia.
2. In Altaokay, Unicard holders will get 10% permanent discount on blenders, irons, vacuum cleaners and up to 50 categories of small household appliances.
3. In Aversi Network, Unicard holders will get 10% permanent discount on Topicrem, Il Salone, Ahava, Doliva, and up to 20 types of cosmetics and self-care products.
In addition to permanent discounts, customers will be able to get weekly updated offers of discounts, gifts and accumulative points, which will bring even more benefits.
A card registration is required to get a discount (if not registered).
The card can be registered both on the website www.unicard.ge and via the information center 2 555 222.
If you still have no Unicard, you can get it in:
• Spar, Foodmart, Ioli and Altaokay's Network of stores;
• Unicard Services Centers.
Points, discounts, gifts - this is a renewed Unicard conception.
From November 15th- Get more discounts with Unicard!