GPC and Unicard Set Roman Holidays as the Main Prize!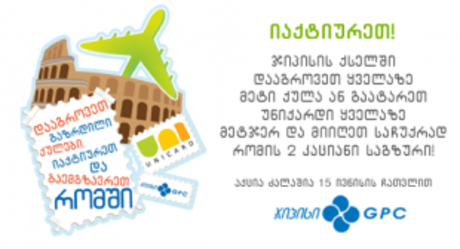 Unicard and GPC offer customers a one month joint campaign from 15 May. The most effective gifts expect to be - two double tickets to Rome. Roman holiday prize will be presented to the user, which is the highest user of GPC and also who has most often carried the card during this period. In addition, until June 15, card holders have an opportunity to get higher scores on Unicard from any purchases, and each spent 20 GEL equal to GPC lottery's 1 ticket.


GPC takes care of the comfort of users, allows them to benefit from the Unicard, accumulate points and get lots of gifts. GPC currently owns about 100 drugstores across the country  and offers the users a wide range of choice - medicines, cosmetics. So, be active and enjoy Rome!