ALTAOKAY JOINED UNICARD NETWORK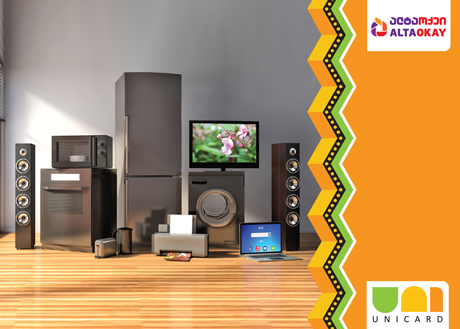 The new partner of Unicard is AltaOkay. It is possible to collect or redeem points in the store network. Since December 2016, in AltaOkay's 19 stores throughout Georgia, you can collect points purchasing any products. Customers can purchase the product in the store with the help of collected points.
The points are easily exchanged for technologies in situ with the help of card. 12 points equals 1 GEL.
AltaOkay is one of the largest store network throughout Georgia. It has 16 stores in Tbilsi, 1 in Rustavi, 1 in Batumi and 1 in Kutaisi. AltaOkay offers its customers variety of small and large household appliances. Here you can find the official tecniques of the world's leading brands such as SAMSUNG, SONY, AEG, ASUS, APPLE, HP, LENOVO, HUAWEI, ZANUSSI, PHILIPS, PANACONIC, CANON, HANSA, REDMOND and more.