UNICARD NEW YEAR DAYS STARTED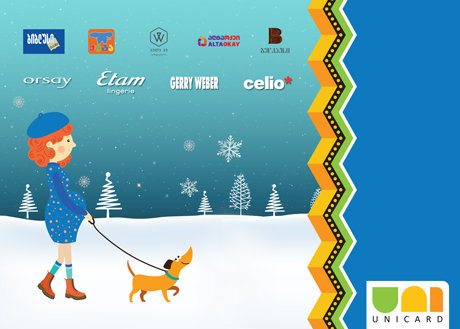 Unicard New Year's Days started on December 9 and will last till 31of December .Only Unicard holders will get double points, New Year's gifts and souvenirs in 100 branches of 6 companies.
From December 9, New Year's Days started in Biblus stores and will continue for 3 days. After this, from December 12 - 14, Voulez Vous will make special offers for Unicard holders. From December 15, Unicard New Year's Days will be moved to the toy store network Chita for 3 days. The next three days, till December 21, AltaOkay will encourage Unicard holders. From December 21 to 23 of December, inclusive Unicard New Year's Days will continue in ADress group's stores: Gerry Weber, Celio, Etam and Orsay. From December 24, Belhouse will make a special offer to Unicard holders.
Unicard universal is a cumulative card, which incorporates more than 3,000 sales points of a network of 300 companies and gives an opportunity to the million and a half of customers to collect and redeem their points.
You can choose gifts card in Unicard's online catalog or some of the partner companies with collected points. Choose a gift catalog of any age and taste can. Anyone can choose a gift in the catalog besides his age and taste. Points' redemption happens immediately in some of the partner company.