UNICARD SHOPPING FESTIVAL IS STARTING AT TBILISI MALL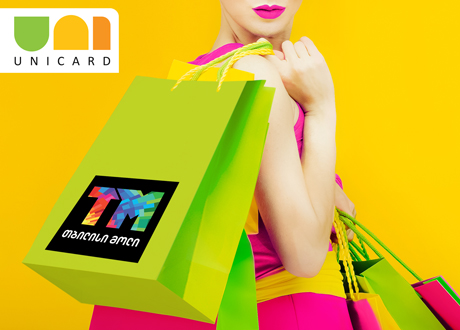 Unicard's Shopping Festival is starting at Tbilisi Mall on November 25. During the festival shopping and points collection will be available for everybody. Also 50% discount will be available at most of Tbilisi Mall stores on Black Friday, November 25.
Point collection is easy – customers have to submit receipts collected from the stores where their purchase was made. Receipts acceptance is preceded at Unidesks situated within the shopping mall. After all, Unicard's agent marks up points at Unicard relevant to the sum shown on a submitted receipt. In terms of Unicard's Shopping Festival customers collect 1 point on each spent 10 GEL. Maximum, daily amount is 50 points per customer. It does not matter whether festival participant is already a Unicard holder or not, after receiving new Unicard in Tbilisi Mall customer still collects Unicard points. Unicard's Shopping Festival is to last till November 29.
To activate Unicard points received during the Festival, customers need to collect extra 10 points at Unicard's other partners stores. Card holders should be web registered on www.unicard.ge, call center helpline (+995 32) 2 555 222 is always ready to go through your registration procedure. Activation of points collected at Unicard's Shopping Festival is available till 31 December, 2015.