COLLECT TO WIN!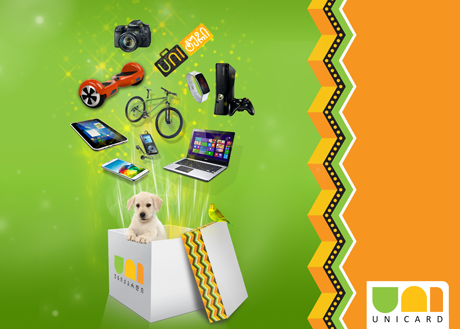 Unicard customers are offered new entertaining campaign –"Collect to Win". 400 Unicard holders are given chance to win while collecting points on loyalty card. Campaign starts on September 15th and is to last till October 31. Laptop, journey, bicycle, domestic animals and other gifts – All cardholders participating in this campaign are given chance to win one (or more) from over 400 gifts.
Unicard holders who spend minimum 30 GEL during the campaign period (within Unicard partner's network) receive text message with the unique ticket code (single code per each receipt) which is to be activated within the same month period via webpage, text message, our call center (+995 32) 2 555 222 or visit Unicard's service center (71 Vazha-Pshavela ave.; 0186 Tbilisi, Georgia). Moreover, Unicard holders are able to join campaign by point's redemption, whereas 9 points are equal of 1 already activated ticket. Campaign winners are to be announced in a sequence. Over 400 gifts obtain items like laptop, journey, bicycle, hover board, cell phones, fitness/gym/pool vouchers, fuel talons, domestic animals, etc.
Unicard holders meeting campaign terms receive the unique ticket code via short text message. Ticket code should be activated till November 7th. Inactive tickets don't meet campaign terms therefore they don't participate in campaign. Tickets gained by point's redemption are already activated. Campaign winners to be announced on November 15th.
Please, check detailed information.