Shop at International Online Retailers and Collect Points on Unicard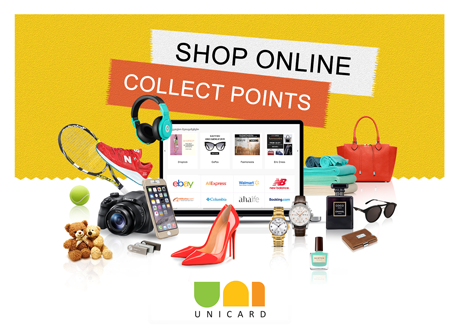 eBay, Booking.com, Alliexpress, New Balance, Columbia and other leading online retailers in one space, where Unicard holders collect points while shopping online.
Unicard holders can collect loyalty points while shopping directly from Unicard webpage. Full list of online retailers is available from Unicard webpage http://www.unicard.ge/ge/onlineshopping

While shopping online the most important precondition is choosing online retailer from Unicard webpage. For instance, if customer plans shopping from www.ebay.com, he/she should visit Unicard webpage, find and choose "eBay" from the full list of online stores, fill in Unicard number, agree to the terms and conditions, push shop button to start online shopping. Those, who have not Unicard yet, can click "I don't have a card" field and generated virtual Unicard immediately.
Amount of accumulated points depends on online retailer. Collected points are seen as available on Unicard holder's account after 30 days from delivery to the shipping address.
Unicard creates positive experience for loyal customers and offers wide range of point's collection opportunities. Unicard offers points collection online since 2016. Customers can collect points in virtual space by applying to Unideposit and Unimania services.
To get additional information, check instructions on how to delete browser history and cookies from different browsers: