KANI Clinic Joined Unicard Network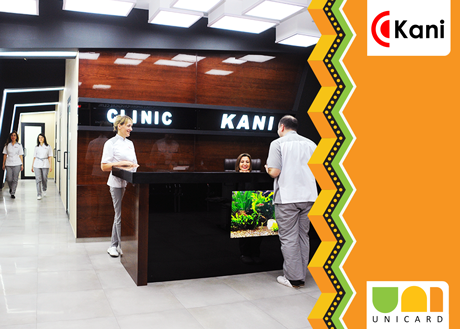 Dermatology and venereal clinic KANI joined Unicard network. Company offers high quality treatment procedures and service provided by professional and qualified doctors. Newest technology from Germany FotoFinderbodystudio diagnoses skin on any part of the body. Any kind of birthmark could be diagnosed in terms to control and prevent cancer risks timely. Patients at Kani are under supervision of Georgian doctors and foreign professors.
Patients are offered various services:
● Mole/birthmark diagnostic with FotoFinderbodystudio technology;
● Consultation with dermatologist, skin diagnosis and treatment on any stage of disease;
● Removal of moles and any other grown skin formations without pain;
● Sexually transmitted disease treatment, DNM analysis according to the patient's urine. First time consulting for free;
● Phototherapy treatment psoriasis, vitiligo, neurodermatitis, eczema.
Unicard holders collect 1 point per each spent 10 GEL at KANI clinic. Clinic location: 7 I. Chavchavadze Ave., Tbilisi.