BUY NEW COLLECTION AT NAF NAF, GET DOUBLE POINTS ON UNICARD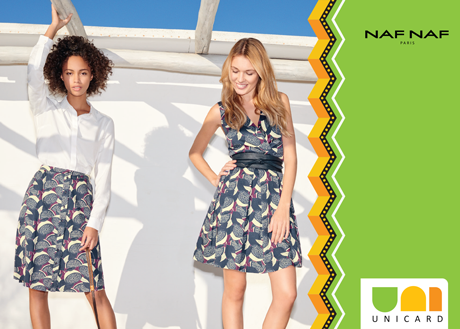 NAF NAF joined Unicard network and to celebrate new partnership double points campaign launched in Tbilisi branch till 8th of May. Unicard holders are of offered variety of choice, among all cloth presented within the shop spring collection is also available.
French brand NAF NAF was created 40 years ago in 1973 by brothers Patrick and Gérard Pariente. Unique design of jumpsuit appeared revolutionary invention in textile world. Unique, refined and bold styles lead company to a great success. Generally, NAF NAF is created for modern, elegant and busy women with romantic souls.
NAF NAF owns 182 shops only in France, 425 worldwide and is presented in more than 600 outlet stores worldwide. In Georgia, brand is presented with 2 stores: 2 Pekini Street, Tbilisi; 6 Imnadze Street, Batumi. Unicard holders collect 1 point per each spent 10 Gel at NAF NAF stores.